A  successful Pupscan Seminar was held on 7th July at the IKC National Show Centre in Dublin, thanks to everyone who attended, you were a lovely audience.
The presentation kicked off with an introduction by Pamela Maclellen on the Pupscan Project which is researching the processes that lead to faulty hip development.
It was a pleasure to welcome Mr Bodo Backmo from the Swedish Kennel Club Investigation Team on HD who spoke about the extensive research he had recently completed and submitted to the SKK, and his interesting findings on the increasing incidence of HD in Sweden.
Mr Jim Stephens, Chairman of the Health & Welfare Committee of the Irish Kennel Club told of the support of the IKC towards the Pupscan Project and its efforts to promote it to the FCI.
Mr Gordon Maclellan MB BS FRCS (Consultant Orthopaedic Surgeon) gave a presentation on the many causes, besides genetic, that can cause abnormal hip joint development.
Prof Alan Fahey, Head Geneticist, UCD) spoke about phenotype, genotype, traits and gene influence and how the environment can have an effect on how genes can be expressed.
Prof Vivian Gath (Veterinary Science Centre, UCD) presented on nutritional and environmental impact on growth and development.
Finally Mrs Maclellan ended the day with a presentation on how the scanning procedure and X Ray Referral Scheme would now move forward given the encouraging global interest and she acknowledged the continued and growing support of breeders and indeed the Irish Kennel Club. A lively Q &A session took place afterwards where the above speakers and also Veterinary Orthopaedic Surgeon Paul Kelly answered the many questions from the audience.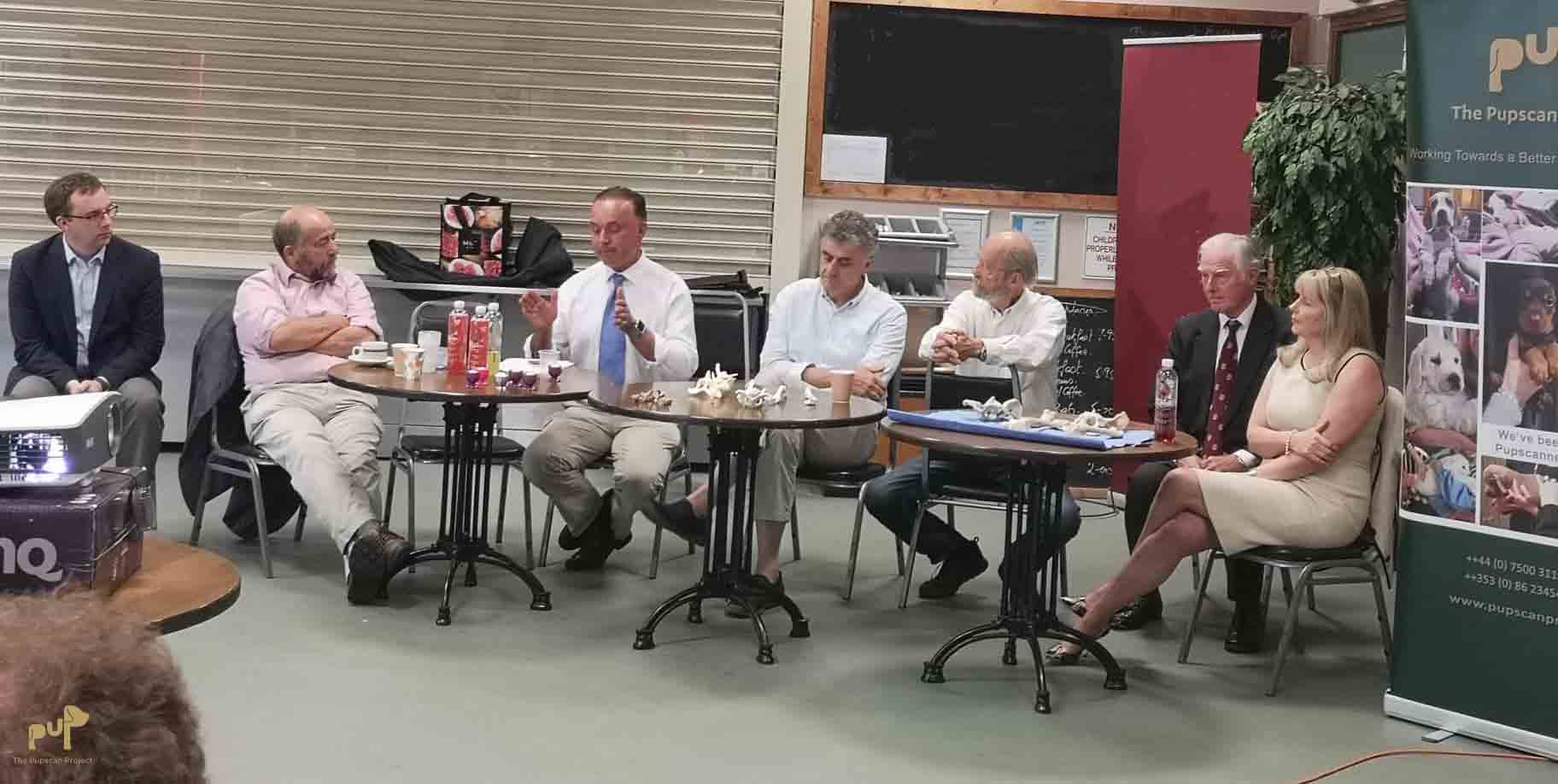 Photo L-R: Prof Alan Fahey (Head Geneticist UCD), Jim Stephens (Chairman Health & Welfare Committe IKC), Prof Vivian Gath (School of Veterinary Sciences, UCD), Paul Kelly (Orthopaedic Specialist Veterinary Surgeon), Bodo Backmo (Swedish Kennel Club Investigation Team on HD), Gordon Maclellan MB BS FRCS (Consultant Orthopaedic Surgeon), Pamela Pam MacLellan (CEO Pupscan Research Project)